How to measure (wedding dress)
Size Chart

| SIZE * | BUST* | WAIST*  | HIPS* |
| --- | --- | --- | --- |
| US 0 / UK 4 / EU 30 | 31½ inch / 80cm | 24½ inch / 63cm | 33½ inch / 86cm |
| US 2 / UK 6 / EU 32 | 32¾ inch / 83cm | 25½ inch / 65cm | 35¾ inch / 91cm |
| US 4 / UK 8 / EU 34 | 33½ inch / 85cm | 26¾ inch / 68cm | 36½ inch / 93cm |
| US 6 / UK 10 / EU 36 | 34¾ inch / 88cm | 27½ inch / 70cm | 37¾ inch / 96cm |
| US 8 / UK 12 / EU 38 | 35½ inch / 90cm | 28¼ inch / 72cm | 38½ inch / 98cm |
| US 10 / UK 14 / EU 40 | 36½ inch / 93cm | 29½ inch / 75cm | 39¾ inch / 101cm |
| US 12 / UK 16 / EU 42 | 38¼ inch / 97cm | 31 inch / 79cm | 41¼ inch / 105cm |
| US 14 / UK 18 / EU 44 | 39¼ inch / 100cm | 32¾ inch / 83cm | 43 inch / 109cm |
| US 16 / UK 20 / EU 46 | 41 inch / 104cm | 33¾ inch / 86cm | 44 inch / 112cm |
| US18W / UK22 / EU48 | 43 inch / 109cm | 36¼ inch / 92cm | 45¾ inch / 116cm |
| US 20W / UK 24 / EU 50 | 45 inch / 114cm | 38½ inch / 98cm | 47¾ inch / 121cm |
| US 22W / UK 26 / EU 52 | 46¾ inch / 119cm | 41 inch / 104cm | 49½ inch / 126cm |
| US 24W / UK 28 / EU 54 | 48¾ inch / 124cm | 43 inch / 109cm | 51½ inch / 131cm |
| US 26W / UK 30 / EU 56 | 51¼ inch / 130cm | 45¼ inch / 115cm | 53½ inch / 136cm |
How to measure (wedding shoes)
Warm Tips:Our shoes size are all in standard european size,shoes width are Medium (B or M), If your daily shoes' width are wide size (D,W or EE) , please buy larger one size . Please compare the foot length data carefully before ordering.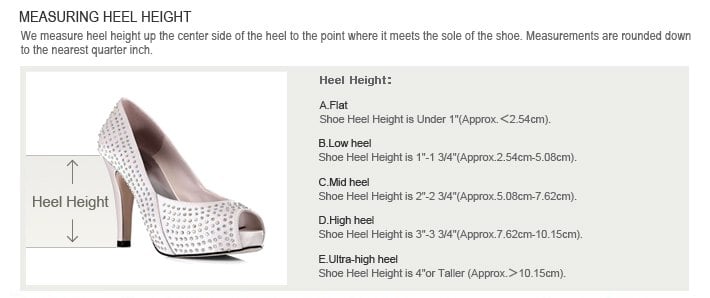 Finding The Right Fit
Size:

 

True to Size
Width:

Medium

Boot Shaft:

 

True to Size
For shoe size conversion, please consult our size charts below:
Note: Size chart is provided as a general sizing guide only. Specific measurements vary with each style.
SIZE *

Foot Length

*cm
Foot Length* in
Width

*

US 4.5 / UK 1 / EU 34

            22 cm

            8.66 inch

   Medium

US 5 / UK 2.5 / EU 35

 22.1-22.6 cm

    8.68-8.91 inch

   Medium

US 5.5 / UK 3 / EU 36
 22.7-23.3 cm
    8.92-9.19 inch

   

Medium

US 6.5 / UK 4 / EU 37
    23.4-24 cm
    9.20-9.46 inch

   

Medium

US 7.5 / UK 5 / EU 38
 24.1-24.6 cm
      9.47-9.7 inch

   

Medium

US 8 / UK 5.5 / EU 39
 24.7-25.3 cm
    9.71-9.98 inch

   

Medium

US 9 / UK 6.5 / EU 40
 25.4-25.9 cm
  9.99-10.21 inch

   

Medium

US 9.5 / UK 7 / EU 41
    26-26.6 cm
10.22-10.49 inch

   

Medium

US 10.5 / UK 8 / EU 42
 26.7-27.3 cm
  10.5-10.77 inch

   Medium

HOW TO MEASURE